The franchise is taking a different direction after criticism of not being diverse. Rachel Lindsay was the biggest critic of casting not being inclusive. A producer of The Bachelor is now responding to her and more.
Rachel Lindsay said 'The Bachelor' franchise needs to improve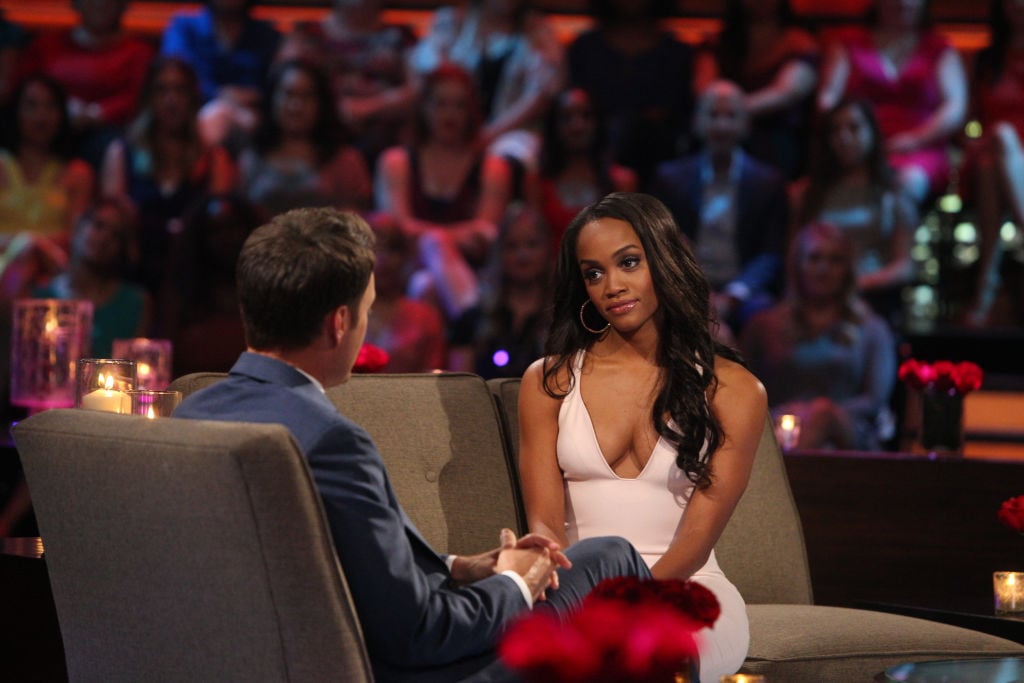 RELATED: 'The Bachelor' Season 25: Matt James' First Thought When He Became the Star Involves Clare Crawley
Lindsay is still close to The Bachelor franchise given she's the host of the podcast, Bachelor Happy Hour. She also recently appeared on the "Women Tell All" to talk about the bullying of cast members from fans. She still isn't afraid to criticize the franchise.
"In 40 seasons of [The Bachelor], you've had one black lead," she said on AfterBuzz. "We are on 45 presidents. And in 45 presidents there's been one Black president. You are almost on par to say you're more likely to become the president of the United States than you are a Black lead in this franchise. That's insane. That's ridiculous."
She also talked about walking away from the franchise. "It's been asked of me, will I continue in this franchise if it continues in this way," she said. "I can't. I have to see some type of change. It's ridiculous. It's embarrassing. At this point, it's embarrassing to be affiliated with it."
Matt James will be the star of 'The Bachelor' Season 25
RELATED: 'The Bachelor': Matt James Hopes for a Diverse Cast With 'all Shapes, Sizes, and Races' for Season 25
It's been announced that Matt James will be the star of The Bachelor. He was previously cast as a contestant for Clare Crawley's season, which was delayed due to the pandemic.
This news was released after Lindsay and other former stars talked about the lack of diversity in the franchise. James also had many fans because he is friends with Tyler Cameron and spent time with him during the pandemic. He is also active with multiple charities.
Rob Mills said 'it is hard not to feel bad'
RELATED: 'The Bachelorette': Tyler Cameron Wants Matt James and Clare Crawley to 'Have a Conversation' After Drama
Rob Mills, ABC's top unscripted executive, talked to Variety about the decision to pick James as the new lead. He addressed Lindsay's comments in the interview.
"It is hard not to feel bad because everybody within the show and at the network loves Rachel. We don't want her to be upset or to feel like more can be done. The best thing to do is listen to her, and take this seriously," he said. "As she said in Women Tell All [last season], she looks around and she's the only person that looks like her. She is the one that everybody goes to for comment and she is the one teaching everyone."
He continued, "I certainly I thought her comments after the Hannah [Brown] situation were really insightful and informative to me. We're so lucky to have her. But I don't think it's fair that the burden has been solely on her shoulders, and we're going to do everything to make sure that it doesn't stay that way."
Fans will have to wait for 2021 to see James' season. For now, it looks like the producers are trying to listen to Lindsay.
Source: Read Full Article