Beth Maitland has played Traci Abbott on The Young and the Restless for close to 40 years. Throughout her daytime soap career, Maitland has made a lot of friends in her castmates. However, there's one Y&R star she didn't exactly like early on.
Beth Maitland is a staple on 'The Young and the Restless'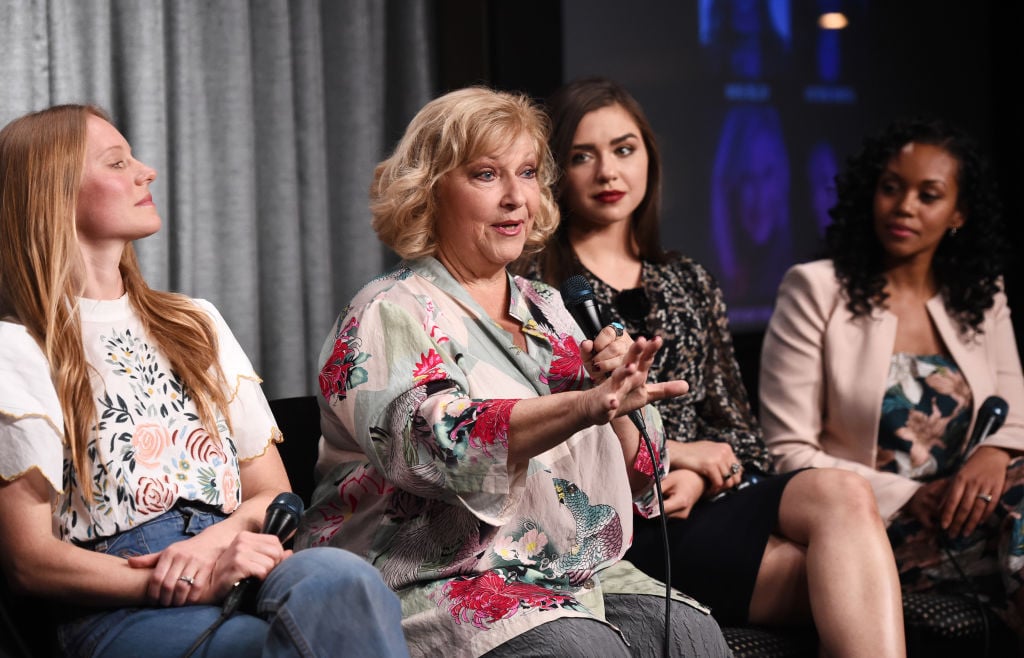 RELATED: 'The Young and the Restless': Did the Late Kristoff St. John Make Less Than His White Co-Stars? One Former Star Says 'Yes'
As one of the veterans of The Young and the Restless, Beth Maitland has appeared in 465 episodes since 1984. Her role as Traci Abbott is a prominent one among the Abbott family, but she hasn't had front-and-center storylines for years.
The 1985 Daytime Emmy for Outstanding Supporting Actress in a Drama Series actress also received a nomination for her Y&R role in 2019 proving she's still got it.
Early on in her career, Maitland appeared in "over 80 stage productions from Shakespeare to comedies to musicals, including two years with a Lyric Opera Theater Company," according to CBS.
Though Maitland has other credits to her name, such as Mr. Holland's Opus, The Young and the Restless is where she made a name for herself. Unfortunately, there's one co-star she didn't get along with in the beginning.
Who did Maitland refer to as 'the biggest creep'?
RELATED: Fans Divided Over Former 'The Young and the Restless' Stars' Long-Running Feud
One of Maitland's former co-stars, whom she married on-screen, didn't give the best first impression. When The Bold and the Beautiful star, Don Diamont, joined the Y&R cast in 1985, his character, Brad Carlton, was destined to end up with Maitland's Traci Abbott.
"She's so good, but if Beth wasn't as sweet as she is, I suppose it could be a little intimidating working with her," Diamont said in a previous Soap Opera Digest interview. "We have a great chemistry."
Their first meeting, however, happened two years before Diamont landed the Y&R role. At the time, he starred in Days of Our Lives playing Carlo Forenza, and well-recognized.
Backstage at a concert, paparazzi wanted the two celebrities to pose together for photos. Maitland agreed, but Diamont apparently wasn't keen on the idea.
Later, when Diamont joined the Y&R cast, Maitland was still salty, giving Diamont the "cold-shoulder" for days.
"I thought he was the biggest creep!" she said. "And I let him know it! We had it out in my dressing room." She explained feeling better after the blow-up but Diamont hadn't even remembered the concert incident.
Are the two friends now?
RELATED: Former 'The Young and the Restless' Producer Mal Young Admits He 'Ruffled a Few Feathers' Before He Was Fired
Though it's been a while since Maitland and Diamont have appeared on a daytime soap together, it seems the two think highly of each other (now). When Diamont was suddenly written off Y&R and let go, Maitland was one of the stars who advocated for his place in B&B.
"When I was first hired,] Brad [Bell] told me I had a lot of friends on Y&R. They said, "You've got to bring Don onto your show. You need him on your show. He deserves to be there and this shouldn't have happened," he previously told Entertainment Weekly.
That said, Maitland spoke to TV Insider ahead of Y&R's Abbott-themed week. The actress reflected on her character's second wedding to Brad Carlton.
"I got to spend time with my darling Don. He remains such a good friend," she said. "I admire him and love him so much. He's a remarkable guy, an amazing father, and caretaker of others. His work has grown tremendously. I love to see that. And I love running into him in the hallway at the studio!"
Clearly there's been no love loss since that concert fiasco. Maybe someday, The Young and the Restless I'll resurrect Brad from the dead and he'll reunite with Traci (or B&B will write Maitland into an episode opposite Diamont).
The Young and the Restless airs weekdays on CBS.
Source: Read Full Article