For weeks, This Is Us fans have been wondering who Kevin's (Justin Hartley) pregnant fiancée is. Multiple love interests have popped up throughout the past four seasons, including the character's ex-wife, Sophie (Alexandra Breckenridge), newcomer Cassidy (Jennifer Morrison), and Kate's (Chrissy Metz) best friend, Madison (Caitlin Thompson). Now, with a handful of episodes left until the This Is Us Season 4 finale, viewers are getting tired of all the teasers. But don't fret. Recently, Hartley hinted the mystery behind Kevin's future engagement will be solved soon.
'This Is Us' Season 4 confirms Kevin has a pregnant fiancée
In the This Is Us Season 4 fall finale, Kevin has an epipiphany at Thanksgiving. He tells Randall (Sterling K. Brown) he wants the whole package — a wife and kids — by his 40th birthday in nine months. The NBC series then transports viewers to a flash-forward sequence set to the Big Three's next birthday. And as it turns out, Kevin gets his wish.
At the family cabin, the Pearsons — sans Randall — come together to celebrate the birthday. It's interrupted when Rebecca goes missing, but she is escorted back by the police. When signing the paperwork, Kate asks Kevin how "she" is doing. Kevin says the person in question feels cautious and is laying down.
Like the This Is Us fans at home, the police officer looks to Kevin for an explanation. Then everyone learns Kevin is engaged and his fiancée is presumably pregnant. "My fiancée has got morning sickness at all hours of the day," Kevin says and the officer tells him to try ginger tea.
Of course, Kevin having a family isn't exactly an unreachable concept. Fans already know he has a son in the far future shown in the This Is Us Season 3 finale. But is the mother of Kevin's kid the same woman as the pregnant fiancée at the family cabin? That's just another piece of the puzzle.
Justin Hartley reveals 'This Is Us' fans will find out the identity of Kevin's fiancée soon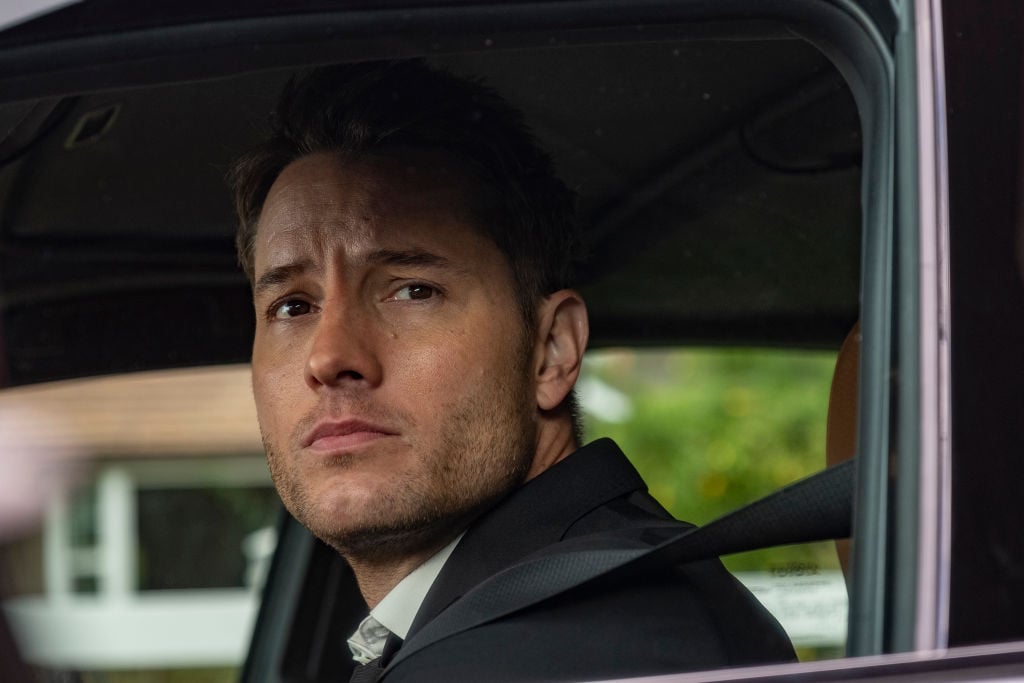 Clearly, there are plenty of questions surrounding Kevin's fiancée on This Is Us. Now it seems some of them will finally be answered in the final three episodes of season 4. When speaking with Us Weekly on Feb. 29, Hartley hinted the show will finally reveal who Kevin gets engaged to within the next few weeks.
"We're almost there. We're a couple of weeks away," Hartley said. "You'll find out."
Hartley's remarks may not come as much of a surprise, especially since This Is Us executive producer, Isaac Aptaker, previously mentioned we will return to the Big Three's 40th birthday in the season 5 premiere, as per tradition. So it's likely fans will have most of the information going into the new season, including the identity of Kevin's pregnant fiancée.
"We have started every season so far with the Big Three's birthday in the present day," Aptaker told TVGuide in November 2019. "That cabin sequence that Rebecca arrives into is their 40th birthday, so that would suggest that's where we're going to start Season 5. People won't have to wait too long for answers in the flash-forwards. That's coming up right away at the top of next season."
In all honesty, we can't stop thinking about who Kevin is engaged to. Luckily, the This Is Us Season 4 finale is just around the corner. So as long as there aren't any more interruptions, fans will hopefully find out the mystery woman's identity soon. Let's just hope it was worth the wait. But according to an interview with Entertainment Tonight, Hartley believes it will be.
"Whoever it's going to be, it's going to be the right ending," he said.
Read more: Why 'This Is Us' Fans Think Kevin Wants to Get Married Will Hit You Right in the Feels
Source: Read Full Article