The series, Tiger King: Murder, Mayhem and Madness, covered many crimes and accusations against people in the big cat community. Carole Baskin was accused of being involved with Don Lewis' disappearance. The sheriff working on the case gave an update for those who are wondering what is happening with the case now.
'Tiger King' dove into the accusations against Carole Baskin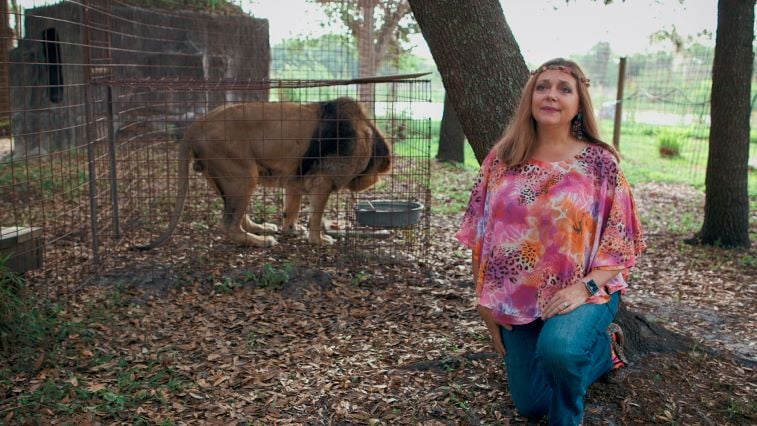 RELATED: 'Tiger King': Jeff Lowe Worries Carole Baskin Will Turn Joe Exotic Zoo Into 'The Graceland of Oklahoma'
Joseph Maldonado-Passage, aka Joe Exotic, repeatedly accused Baskin of murdering her husband. The series covered his accusation and dove into the mystery behind Lewis' disappearance.
Lewis disappeared after leaving his vehicle at an airport in Pasco County in 1997. Authorities weren't able to trace him and he was later declared deceased in 2002.
Baskin denied in the show of having any involvement in Lewis' disappearance. Lewis' relatives claimed they believed she was involved and also changed his will. Baskin later denounced the series in a blog post and denied the allegations again.
"There are not words for how disappointing it is to see that the docuseries not only does not do any of that, but has had the sole goal of being as salacious and sensational as possible to draw viewers," read the "Refuting Netflix Tiger King" post. "As part of that, it has a segment devoted to suggesting, with lies and innuendos from people who are not credible, that I had a role in the disappearance of my husband Don 21 years ago."
The post continued with, "The series presents this without any regard for the truth or in most cases even giving me an opportunity before publication to rebut the absurd claims. They did not care about truth. The unsavory lies are better for getting viewers."
A sheriff called for new leads after 'Tiger King'
RELATED: 'Tiger King': Why Carole Baskin Now Owns Joe Exotic's Zoo
The Netflix series regained interest in his disappearance. Hillsborough County Sheriff Chad Chronister put a call out for new leads after its release.
"Since @netflix and #Covid19 #Quarantine has made #TigerKing all the rage, I figured it was a good time to ask for new leads," he tweeted. Chronister is still doing interviews revealing more about how authorities are working on solving his disappearance.
He claims new information was given
RELATED: How One 'Tiger King' Star May Have Led to the Creation of 'Scarface' Tony Montana
Chronister did an interview with 10 Tampa Bay. He mentioned again that experts reviewed Lewis' will.
"They had two experts deem it 100 percent a forgery. But, we knew that…we knew that before," he claimed. The statute of limitations for forgery of the will has expired. "The will had already been executed at that point," he said. "But, it certainly cast another shadow of suspicion, by all means."
Chronister said he believed Lewis was "murdered," but didn't say who he believed would commit the possible crime. The last time his agency was in contact with Baskin was in 2011 when she refused to do a polygraph test. This was to follow the advice of her legal counsel. 
Chronister said new information has been found thanks to relatives and an office manager. "Investigators have some great leads," he said. "They're working through them. I hope something pans out."
Source: Read Full Article