Save articles for later
Add articles to your saved list and come back to them any time.
Washington: If you want to get a sense of how much legal jeopardy Donald Trump might be in over his mishandling of classified documents, consider this.
Earlier this month, a retired lieutenant colonel by the name of Robert Birchum was sentenced to three years in federal jail after pleading guilty to storing files with classified information at his Florida home.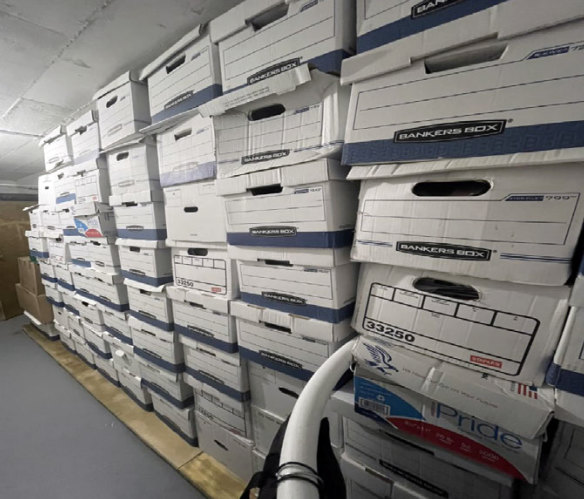 This image, contained in the indictment against former President Donald Trump, shows boxes of records in a storage room at Trump's Mar-a-Lago estate in Palm Beach
Birchum had served three decades in the US Air Force and held several roles that required him to handle highly sensitive information. Investigators found that he "knowingly removed" more than 300 classified files or documents related to national defence, and kept them in "his home, his overseas officer's headquarters, and a storage pod in his driveway".
There was no indication that the 55-year-old had ever distributed the classified material, but according to the Justice Department, "their unauthorised release could be expected to cause exceptionally grave damage to the national security of the United States".
Sound familiar? Trump is now embroiled in a similar case, indicted on 37 federal charges, most of which relate to the "willful retention" of classified material in violation of the Espionage Act, a national security law that has been used to target leakers of government secrets such as a Julian Assange.
And while there are differences (Birchum pleaded guilty and cooperated; Trump says he's innocent and had the presidential right to the material) legal experts point to the case as a sign that "Teflon Don" may be in serious trouble if others have been convicted for less.
"I think he will go to jail," said former Justice Department official Alan Rozenshtein who is now a law professor at the University of Minnesota.
"Yes, he's innocent until proven guilty, but there's as huge amount of evidence out there – and none of it is complicated. It's very bad to keep classified information, but it's particularly bad to do it willfully – and it's extra bad to then go to long lengths to obstruct an investigation into it."
Boiled down, the 49-page indictment that was unsealed on Friday is detailed and devastating. Multiple witnesses are quoted under oath. There's audio tape contradicting what the former president had previously said.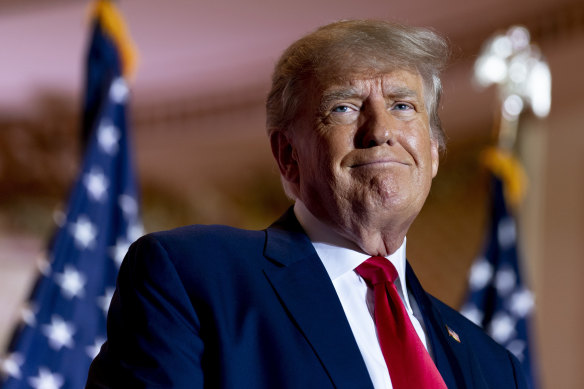 Donald Trump said he was due in court on Tuesday afternoon in Miami.Credit: AP
And there's paragraph after paragraph of potentially damning allegations giving the clearest picture yet of the files Trump took with him when he left the White House – and how carelessly the information was stored at his Mar-a-Lago estate, which has hosted tens of thousands of guests over the years.
The classified documents Trump took were found all over the Florida resort, "in a ballroom, a bathroom and shower, an office space, his bedroom, and a storage room". Some included information about the defence capabilities of the US and foreign countries, others had detail about nuclear programs and military vulnerabilities, or intelligence that should have only been shared with "Five Eyes" countries such as Australia.
And after getting a subpoena to return the documents, Trump sought to thwart attempts to retrieve the information or investigate the case. At one point he allegedly told his lawyers: "Wouldn't it be better if we just told them we don't have anything here?"
America now finds itself with the bizarre reality of its federal government prosecuting its former president who is also the frontrunner for the Republican nomination.
This image, contained in the indictment against Donald Trump, shows boxes of records on December 7, 2021, in a storage room at the former president's Mar-a-Lago estate.
How this shakes up the 2024 election is yet to be seen. Trump, for now, is doing what he's always done – maintaining his innocence; decrying the "witch hunt" against him; and milking his MAGA base for donations to prop up his campaign.
And most Republicans, even his biggest primary race rivals, are standing by him, furious by what they see as the "weaponisation" of US law enforcement agencies such as the Justice Department and the FBI under the Biden administration.
But while Trump is a born fighter, his ongoing legal woes could nonetheless distract him from the contest, or force him to plan campaigns around his court appearances – not just in Miami for the documents case, but also New York where he faces trial over hush money charges.
What's more, his endless scandals could increasingly put off the moderates and independents in swing states that will determine the 2024 election.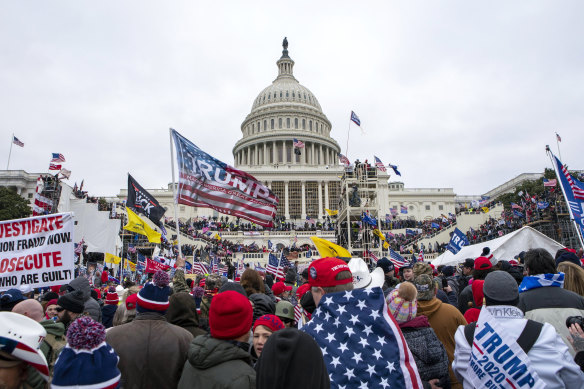 Rioters loyal to Donald Trump rally at the US Capitol in Washington on January 6, 2021.Credit: AP
After all, since taking in office in 2016, Trump has been under near constant investigation. He's been impeached twice, firstly for abuse of power and obstruction; secondly for inciting an insurrection.
He was found by a Congressional inquiry to be the "central cause" of attack on the US Capitol and a co-conspirator in a multipart plan to stop Joe Biden's election victory from being certified.
He was last month found to have sexually assaulted and defamed New York writer E.J Carroll. And he's still the subject of two separate probes: one for attempting to overturn the 2020 election result in Georgia, and another for his role in the 2021 Capitol riot.
As Rozenshtein puts it: "He makes Richard Nixon look like a boy's scout." Is this the future of American democracy?
Get a note directly from our foreign correspondents on what's making headlines around the world. Sign up for the weekly What in the World newsletter here.
Most Viewed in World
From our partners
Source: Read Full Article